Hey everyone! So every Tuesday I'm going to try and post the cover of a book that I feel is spectacular! Sorry about last week, but I was home for spring break and I went out of state so I didn't have anytime to blog! But I'm back!
So, this Weeks Cover is
Tiger's Curse
by Colleen Houck!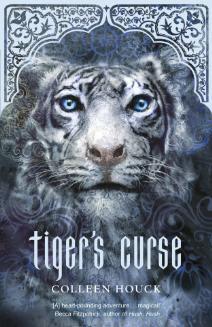 This cover is absolutely gorgeous! I'm a huge fan of this series and I'm currently waiting (impatiently) for Tiger's Dream to come out! I really love the tiger on the cover and the white tiger is quite magnificent. Tigers are one of my favorite animals and this cover does not do them wrong.
Here's a little about this book from Goodreads:
Passion. Fate. Loyalty.

Would you risk it all to change your destiny?

The last thing Kelsey Hayes thought she'd be doing this summer was trying to break a 300-year-old Indian curse. With a mysterious white tiger named Ren. Halfway around the world. But that's exactly what happened. Face-to-face with dark forces, spellbinding magic, and mystical worlds where nothing is what it seems, Kelsey risks everything to piece together an ancient prophecy that could break the curse forever.

Tiger's Curse is the exciting first volume in an epic fantasy-romance that will leave you breathless and yearning for more.
Pages: 403
Publisher: Splinter
Released: January 11, 2011

-Daniel