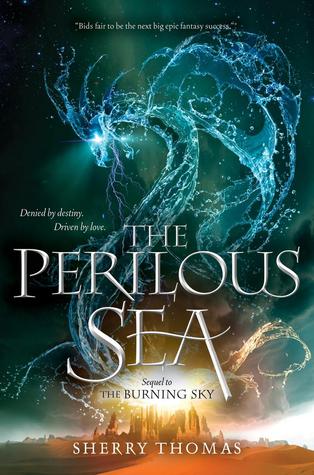 The Perilous Sea
by Sherry Thomas
Release Date: September 16, 2014
Publisher: Balzer + Bray
Pages: 414
Rating:
Goodreads
:
After spending the summer away from each other, Titus and Iolanthe (still disguised as Archer Fairfax) are eager to return to Eton College to resume their training to fight the Bane. Although no longer bound to Titus by a blood oath, Iolanthe is more committed than ever to fulfilling her destiny—especially with the agents of Atlantis quickly closing in.

Soon after arriving at school, though, Titus makes a shocking discovery, one that makes him question everything he previously believed about their mission. Faced with this devastating realization, Iolanthe is forced to come to terms with her new role, while Titus must choose between following his mother's prophecies—and forging a divergent path to an unknowable future.
Review:
Let me start off by saying that this book blew the first book right out of the water. Like Iolanthe just called upon her lightning powers and shot it out of the waters. I was on the edge of my seat for most of this book and as everything came together at the end, I was pacing around my room while reading. There were some parts at the end, however, that got really confusing. I had to go back and read them to try to understand them. Eventually I was able to make enough sense of them. Even with that I still felt that this book was amazing.
This book was written very differently, in that Sherry Thomas writes two different timelines simultaneously, meaning that every alternated chapter jumps between the present and the past, in which the past is catching up to the present moment. Sherry Thomas also ends each chapter with a cliffhanger which made it almost impossible to put the book down, causing me to finish the book in one day. You have an urge to discover the situation in the timeline you left behind and also to figure out how our protagonists went from Point A to Point B. After each cliffhanger I often found myself going "gosh darnit! I have to read more!"
The Perilous Sea was far more romantic than The Burning Sky was. In one timeline, certain things that happen allowed for Iolanthe and Titus to fall in love all over again, however, in a different way. In another timeline, Iolanthe and Titus must battle through their differences to find a way back to one another, despite the hurdles they themselves have put in their paths and also the hurdles that have been placed in front of them by others. In both instances, it is clear once and for all that yes, these two truly do love each other and, above all, they are stronger together than apart. I felt the romance also fit better together in this book than from the first one. Unlike the first book where they seemed better off as really close friends, the second book really showed how much they love each other.
Another great thing about this book was how we learned a lot more about the secondary characters, like Kashkari, Wintervale, and Mrs. Wintervale. We also find out what and who the Bane really is and how horrible he really is. It was quite disturbing what he does.
I also have to mention many of the twists and turns towards the end, when we start to find out a lot of information. Thomas often made us think one thing, when in actuality it was a completely different thing. My jaw was dropping a lot more than it was closed.
We receive answers about Iolanthe's past, including things from her origins to her memory keeper, speculate about Titus's parentage, and learn the true reality of Titus's mother's visions.
Thomas is leading us to a spectacular finale and I can't wait to see what happens to these characters in The Immortal Heights. Now I have to wait for most likely a year to find out what happens next and I really can't wait! I hope you all read this series and if you have up after the first book I hope that you give it a second chance. The sequel was so good!