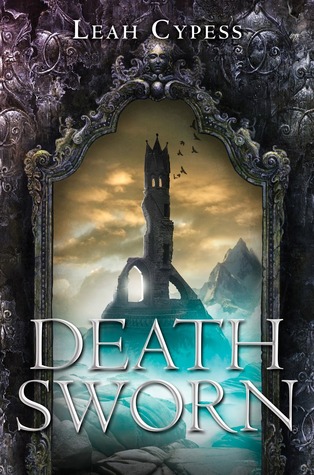 Death Sworn by Leah Cypess
Publisher: Greenwillow Books
Publication: March 4, 2014
Pages: 352
Rating:

Goodreads:
When Ileni lost her magic, she lost everything: her place in society, her purpose in life, and the man she had expected to spend her life with. So when the Elders sent her to be magic tutor to a secret sect of assassins, she went willingly, even though the last two tutors had died under mysterious circumstances.

But beneath the assassins' caves, Ileni will discover a new place and a new purpose… and a new and dangerous love. She will struggle to keep her lost magic a secret while teaching it to her deadly students, and to find out what happened to the two tutors who preceded her. But what she discovers will change not only her future, but the future of her people, the assassins… and possibly the entire world.
Review:
I really enjoyed this book! It was a fast read, however, it was a little slow at the beginning but it eventually sped up and improved. I wasn't really sure what to expect but this book has magic and assassins so I had to give it a try. I found myself slowly getting attached to Ileni and even Sorin a little bit. After getting past the slow beginning I couldn't stop myself from reading. I finished this book in about a day. I do wish there was a little more magic involved though, however, that was almost impossible because throughout the book Ileni was struggling with the fact that she was slowly losing the last bits of her magic.
Ileni was practically sent to her death because she no longer had her great magical powers. She was sent to the depths of a mountain filled with hundreds of assassins in order to teach the assassins how to control and use their magical powers in order to aid them in their fight against the Empire and to find out who murdered the past two tutors. Throughout the book we often see that Ileni has accepted her fate and her death and is sometimes reckless when it comes to her interactions between the hundreds of deadly assassins. Ileni is very strong headed and borderline reckless, however, I found that I really enjoyed her.
Sorin is one of the top assassins in the mountain and he was forced by his Master to protect Ileni. At first Sorin is like a brick wall, solid, unemotional, and humorless. However as we progress through the book we see Ileni chip at this wall and we eventually see some of Sorin's feelings show.
He has a past that was very tough and his future doesn't look very promising because, let's face it, assassins don't live very long given their profession. He's got trust issues, which I can understand and he's got one person he listens to and that's it. That's all he's ever really known since living on the streets so you can't fault him.
I think one of the best things about this that many people found was that there was no love triangle. It was only Ileni and Sorin and even then there wasn't much loving going on. We see their relationship slowly kindle and grow throughout the novel and we even see a hint of friendship.
There are parts of this book that will have you cringing at scenes of gore and death. There are some parts where you will see some swooning and a little bit of lovin'. It will also have you rooting for Ileni time and time again wishing that some how all her magic would return in one fell swoop. It's full of action, adventure, romance and death. It leaves you wanting more but the cliff hanger isn't unbearable which makes it a little less horrible to wait. I recommend this book to everyone!
*Thank you Greenwillow Books for the opportunity to read this in exchange for an honest review and thanks to Jessica from Step Into Fiction for holding the giveaway for this ARC*