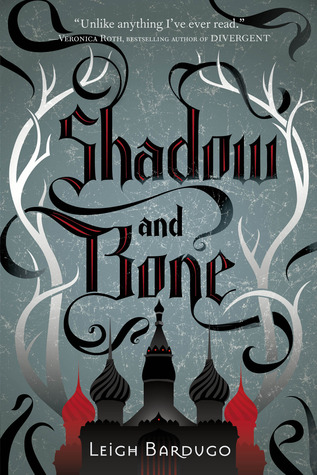 Shadow and Bone by Leigh Bardugo
Release Date: June 5, 2012
Publisher: Henry Holt and Co.
Pages: 358
Rating:
Goodreads:
Surrounded by enemies, the once-great nation of Ravka has been torn in two by the Shadow Fold, a swath of near impenetrable darkness crawling with monsters who feast on human flesh. Now its fate may rest on the shoulders of one lonely refugee.

Alina Starkov has never been good at anything. But when her regiment is attacked on the Fold and her best friend is brutally injured, Alina reveals a dormant power that saves his life—a power that could be the key to setting her war-ravaged country free. Wrenched from everything she knows, Alina is whisked away to the royal court to be trained as a member of the Grisha, the magical elite led by the mysterious Darkling.

Yet nothing in this lavish world is what it seems. With darkness looming and an entire kingdom depending on her untamed power, Alina will have to confront the secrets of the Grisha . . . and the secrets of her heart.

Shadow and Bone is the first installment in Leigh Bardugo's Grisha Trilogy.
This book was amazing and I loved every second of it. I loved the world that the characters lived in and the magic that is used by the Grisha. There were many twist and turns, as well as, "Wait, what?" moments in this book. I was on the edge of my seat throughout most of this book and I found it almost impossible to put this book down!
The world that Ms. Bardugo creates is spectacular. I love the magic and the Grisha and how she describes how they use their power. She really gets in depth with the Grisha powers which I absolutely love. She is able to vividly show this world of Ravka so that the reader is actually visualizing it in their own minds. The author gradually unravels the
concept of The Grisha, soldiers of the Second Army and the elite citizens of Ravka. There are the
Corporalki
,
Etherealki
and
Materialki
, with different colored
keftas
defining which order a Grisha belongs to. The amount of detail included was just perfect!
I really like Alina. Alina was a scrawny, weak orphan. She is a little wimpy, which was annoying me a little bit. She worked as a mapmaker in her kingdom before everyone learned that she had the power of summoning the Sun, which could prove beneficial in destroying The Fold. Alina was then thrown into a world that was completely new to and had to learn many new things, like how to even use her powers. Throughout this book she really discovers who she is and she embraces what she has become and what she has to become in order to save the ones she loves, and even the people of Ravka.
I also liked Mal. He didn't really have a heavy presence until the end, but I liked him anyway. Mal is Alina's best friend since she was a child. They both had lived in the Duke's orphanage and with Mal by her side, that awful place seemed to be a place filled with fun and fond memories. Alina relied on those memories of Mal often, and they helped her get through tough times.
The Darkling is mysterious and there is very little information about him. We see a lot of small glimpses of him throughout the book and even some big glimpses. The reader really begins to like him. That's all I'm willing to say about him because I don't want to give some spoilers.
Overall, this book was fantastic and I loved everything about it! I highly recommend it!
-Daniel